Nevada County Local Information

The Heart of California's Gold Country… In the Sierra Foothills…
Where There is Still Room to Enjoy the Good Life.
Grass Valley and Nevada City are the central activity points for the Nevada County California area. The cities adjoin each other and are easily accessible from Highway 49. There are many areas within the Grass Valley / Nevada City areas, such as, Penn Valley, Lake Wildwood, and Lake of the Pines. You can search ALL Nevada County Real Estate and Homes For Sale in Grass Valley and Homes For Sale in Nevada City.
Be sure to check out Nevada County Communities. A great source of information for all the communities in Nevada County and links to specific areas to search for homes.
We invite you to come and see for yourself that there is no better place to live, work and play!
Mild four-season climate
Spectacular scenery
Model schools
Affordable housing prices
Low crime rate
Nicknamed "The Silicon Valley of the Sierras"
Rich cultural life
Excellent medical facilities
First-rate restaurants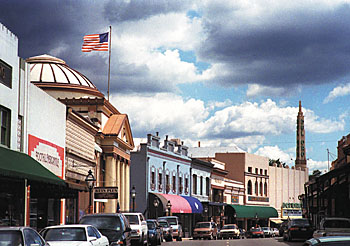 Nevada City and her twin city Grass Valley are both restored Victorian towns located in Nevada County just three miles apart, and at approximately 2,400 feet in elevation. They are bustling hubs of activity with small town ambiance where business, art, history, and culture, outdoor recreation and entertainment abound. In 1997, Time Magazine ranked Grass Valley as one of the ten most desirable small cities in which to live. Just down the road are Penn Valley and the gated golfing and boating community of Lake Wildwood.
Nevada County is located one hour from the North Shore of Lake Tahoe and some of the finest world class ski resort, one hour from the State Capitol of Sacramento, and two and a half hours from San Francisco. Right here in Nevada City and Grass Valley, we have fantastic boutique shopping, classical musical festivals, and concerts and live theater.
Nevada City and Grass Valley recreational areas are second to none in the world. This includes lakes and rivers for boating, fishing, water skiing, rafting and kayaking, and trails for hiking and mountain biking.
Our excellent quality of life has lured a highly educated and skilled labor force with particular expertise in electronics and information processing.
Coldwell Banker Grass Roots Realty is dedicated to providing you up-to-date news, tips and information about our local real estate market.
Nevada County REALTORS® –