Nevada City Real Estate
Looking for information and properties when searching for Nevada City real estate? Homes for sale in Nevada City? You've came to the right place! Below are the current real estate statistics for Nevada City, CA. The properties below are the most recent newest homes for sale to hit the Nevada City market. Make sure you click through to see all Nevada City homes for sale.
Search Homes For Sale By Price in Nevada City, CA
Current Nevada City Real Estate Market Statistics
Nevada City real estate statistics over the last 6 months have shown steady in the number of units for sale. The average price of a home for sale is in the mid to upper $700,000 range. The average sold price of a home is in the $600,000 range. The average days on market is around 30 +/- days but much less for lower priced homes. Lower priced homes for sale are typically on the market for only a few days and some getting multiple offers over the list price.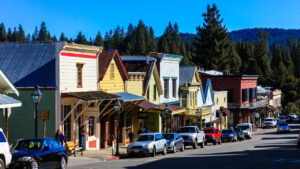 Nevada City History
Known as the "Queen City of the Northern Mines," Nevada City has prepared for its future by carefully preserving its past. Nevada City's restored and colorful downtown historic district is listed on the National Register of Historic Places and has been recognized far and wide as a true remaining treasure of the Gold Country. Visitors meander through the quaint, narrow streets lined with genuine gas streetlights, brick storefronts, stately Victorian homes and designated landmarks and are quickly taken by Nevada City's special appeal. And it all began with gold.
Originally named Deer Creek Dry Diggins, and later Caldwell's Upper Store, Nevada City took shape on the banks of Deer Creek in 1849. Legend has it that early prospectors used pocket knives to pry up to a pound of gold a day from Deer Creek. In 1850, the town's name was changed to Nevada, Spanish for "snow covered." But a few years later, it became Nevada City after a new state to the east borrowed its name. As an early center of hydraulic engineering, Nevada City played host to the consolidation of water companies that eventually became the Pacific Gas & Electric Co., and PG&E's first office was in the National Hotel on Broad Street. Mark Twain lectured at the Nevada Theatre and Herbert Hoover lived and worked in the area as a gold miner before he was elected president.
Over the past 35 years, Nevada City's renaissance has been spurred by a city government committed to preserving history and to a business community that rescued and restored a town that was half full of vacant buildings. Today, the downtown area thrives and Nevada City remains as the county seat and government center for Nevada County. Downtown Nevada City has a number of quality restaurants, three live theater venues, three winery tasting rooms and several watering holes with musical entertainment. The city takes special pride in its community celebrations which include the Joe Cain Day Parade each February, the International Teddy Bear Convention in April, Nevada City Bicycle Classic in June, Summer Nights street fair in July, Constitution Day Parade in September and Victorian Christmas in December. Nevada City stands at the gateway to the Tahoe National Forest and its year-round recreational attractions. The city is home to a growing number of artists, writers and active, outdoors-oriented people who seek to combine a healthy lifestyle with the peace and pace of small town living.
Nevada County REALTORS® –