5 Apps to Redecorate Your Home with Your Phone
With dozens of decorating apps to choose from and inspiration just a finger touch away, redecorating your home has never been easier. Augmented Reality (AR) now lets you use your phone to see how colors, accessories, and furniture will look in your own house. On the horizon, you can expect to see apps using Artificial Intelligence (AI) to learn your style through your interaction with them.
Whether you're looking to give your living room a quick refresh or want to completely revamp your home, these five apps can help you get started. Create a stunning look without blowing your budget — no professional interior designer needed.
Houzz: Start with online inspiration
Apps like Pinterest and Instagram have plenty of pictures and designs to start your inspiration journey. However, it's easy to get overwhelmed, and keeping track of design ideas can be cumbersome.  It's not always simple to buy an item featured in a picture, and you might need to search around to find a similar item. A site like Houzz can help you keep everything organized and in one place.
Houzz covers architecture, interior design, decorating, landscape design, and home improvement. It has over 17 million high-resolution photos, all of which can be filtered by room, style, budget, size, color, or a combination.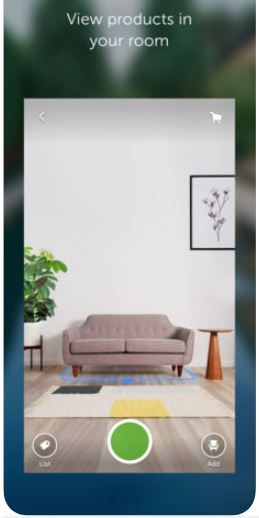 Many of the pictures have purchasing information on the featured items, allowing you to purchase them within the Houzz app.  You can also save pictures to an "Ideabook" to help keep your style ideas all in one place.
The app uses AR to help you see what an item will look like in your home. Click the "View in my room" button to see the item in 2D using your phone's camera.
The Houzz app is free on iOS and Android.
MagicPlan: Create a floor plan from your phone
To ensure that the furniture you plan to purchase fits in the room you'd like to decorate, it helps to create a floor plan.  The MagicPlan app lets you input the dimensions of a room by measuring, drawing, or using your phone's camera to create the floor plan.
Once you've added your room's dimensions, you can add doors, windows, structural features, plumbing, appliances, electrical, HVAC, furniture, flooring, and more to your floor plan.  Many of these features are free to use, but there is an in-app cost for things like cabinetry, light switches, and outlets.
When you add MagicPlan's 2D furniture, you can adjust it to the size you want by using your fingers or inputting the dimensions.  You can add your own photos to your floor plan, as well.
If you are planning to paint or replace the flooring, estimate how much it would cost by clicking "Estimate" for the approximate price. Just remember the estimates do not include the cost of labor.
MagicPlan is free on iOS and Android.
TapPainter: Virtually paint your walls
Swatches from your local home improvement store make it hard to envision the color of the whole room, and buying paint samples can get expensive. The TapPainter app lets you choose paint colors from Benjamin Moore, Behr, Sherwin Williams, and other popular brands.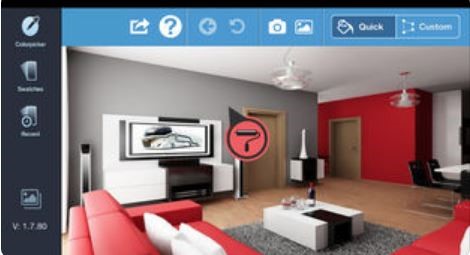 Use the app to snap pictures of the room you want to paint and try out different colors by entering the code from a paint swatch, choosing a color from one of the brands included, or mixing your own custom color.  You can even add different colors to different walls.
TapPainter is free on iOS.
DécorMatters: Design a room using AR
DecorMatters is an app that lets you virtually add pieces and design elements to a real room.  Take a picture of the room you want to decorate and use AR and the AR ruler to add and measure 3D pieces. This is a simple way to see if a piece you've been eyeing will fit.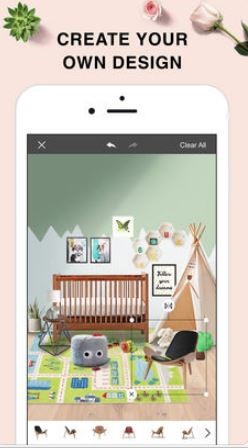 The app features items from popular stores like Crate & Barrel, Target, Overstock, West Elm, IKEA, and Ashley, and you can make in-app purchases right from your phone. You can save your ideas to your mood board to share with friends, and the DecorMatters in-app messaging also offers free feedback and suggestions from real DecorMatters interior designers.
DecorMatters is free on iOS.
Art.com: Add some art to your walls
Finally, the Art.com app offers hundreds of frame styles and sizes to help you plan your gallery wall. Use the app to arrange different layouts to see how your gallery wall could look.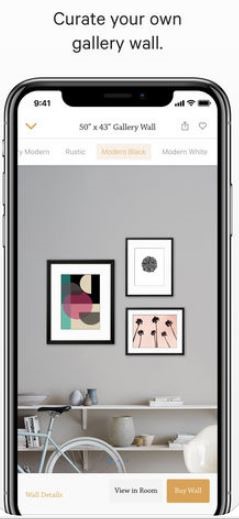 Art.com's latest app release also lets you upload your own artwork and family pictures to pair with any style frame, and you can even have them printed on canvas, wood mount, acrylic, and more.
The Art.com app is free on iOS and Android.
It's easy to create a stunning look that suits your style, all from your phone. These five apps offer the inspiration, confidence, and guidance you need to get started on your redecorating project.